Septic Systems
NEED A NEW SEPTIC SYSTEM OR REPAIRS TO YOUR CURRENT SYSTEM? CALL DAVID ONEIL CONSTRUCTION TODAY FOR GUIDANCE ON THE PROCESS AND A FREE QUOTE.
Most homeowners don't understand the process of properly designing, installing as well as the care & maintenance of a septic system to ensure that it lasts it's full life span. That is what David O'Neil Construction, LLC is here for. We use local soil scientists during the design of a new septic system, are here to properly explain the installation process before and during the install and provide knowledgeable information for proper care & maintenance after the install is complete. There are many factors that determine the life span of your septic system and with the costs associated with today's building trades, septic systems are not something a home owner needs to be replacing often, nor should they have too. If you choose to have us install your septic system you can be sure to have ease of mind knowing that your new septic system will be installed correctly and with the best materials available. Above is a picture of a recent septic system we installed. For more information on design, installation and Operation, Care, Maintenance & Use visit our Septic System section of the website.
Video Camera Septic System Inspections
Buying a house? Let us inspect the septic system!
DON'T TAKE YOUR SEPTIC SYSTEM FOR GRANTED!
When buying a house we recommend having the septic system inspected before the final purchase transaction. Many banks also require a detailed septic inspection, so check with your mortgage loan officer or real estate agent on your program requirements. Without a visual inspection how is a buyer to know the quality and integrity of the septic system and leach field they are purchasing? The visual inspection and written report allows the buyer a better understanding of the condition of the septic system and leach field in which they are purchasing.
Many times the written report is used as leverage in purchase transactions. Don't be left with replacing a septic system because you decided not to have it inspected. This could save you thousands of dollars on the purchase of your new home or in future repairs or replacements.
Driveways
Everyone needs a driveway. How is your driveway at your home? Does it have ruts or pot holes? Are the edges washing away from water run-off? We have solutions to fix driveways or build a new ones. Although we do not provide paving services, we can refer you to someone who does.
Proper driveway construction is very important for a long and effective life with normal use and maintenance. Every driveway needs routine maintenance and we believe yearly maintenance is the most cost effective and easiest way to maintain your driveway. Driveways need a good base composed of well draining and compacted soils. Driveways need to have a crown to promote proper drainage to the sides. This helps assist the water flow off the driveway instead of down the middle of the tire tracks. More times than not, water and lack of maintenance are the two most common factors to a rough and degrading driveway.
We can fix your current driveway, maintain your driveway or even construct a new driveway for you. Let us know what your concerns and needs are; we will take a look at your project, give you our feedback and advice for a nice functional driveway.
Drainage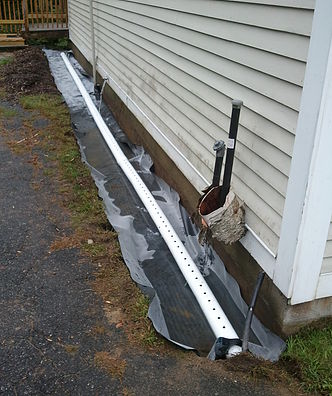 If you have drainage issues and water runoff we can provide a solution. No one wants water in their basement or pooling of water in their yard and/or driveway. We install all types of drains; french drains, foundation drains, underground drainage for gutters, foundation drain cleanouts, culverts and more.
French drains are a good solution to excess roof water which may be making it's way through your foundation and into your basement.We build french drains to last. We first dig a ditch along the side of your house wide enough to catch the falling roof water. Next we line that ditch with thick rubber roofing. Some people use plastic but we like to use rubber because it's more durable and will last longer. We then place a 4" preferated and sloping drain pipe in the ditch and run it out to daylight. We then back fill the ditch with a stone of your choice (usually either ledge or round natural stone). The choice of stone is for aesthetics and the stone itself is to collect water. You will be surprised how much water these drains collect and how much water it keeps out of your basement.
Sometimes people have run-off issues, expecially if your home is on a sloping landscape. We may be able to create a swale to divert water away from your house. Sometimes a combination of a swale and some sort of drainage system work well together.
House Lots
Building a New Home?
If you are looking to build a new home there are many things to think about. The first thing to determine is the site work, or layout of your house on the land. There are many services we provide when it comes to site work. From clearing and stumping your property to digging the cellar hole and installing drainage, we got you covered. Every home needs a strong foundation. One thing that sets us aside from other contractors is the way we construct cellar holes for foundations. Good proper drainage is key to a dry and sturdy basement. When we construct the cellar hole we use a good 6-8 inch base of stone under the entire foundation and not just the footings. We also install footing drains, in stone ,and wrapped in silt paper. This ensures that any water within the ground will be collected throughout the stone and piping systems and discharged away from your home.
There are also other considerations, such as: underground electrical power to your home, water and sewer.
Demolition & Trucking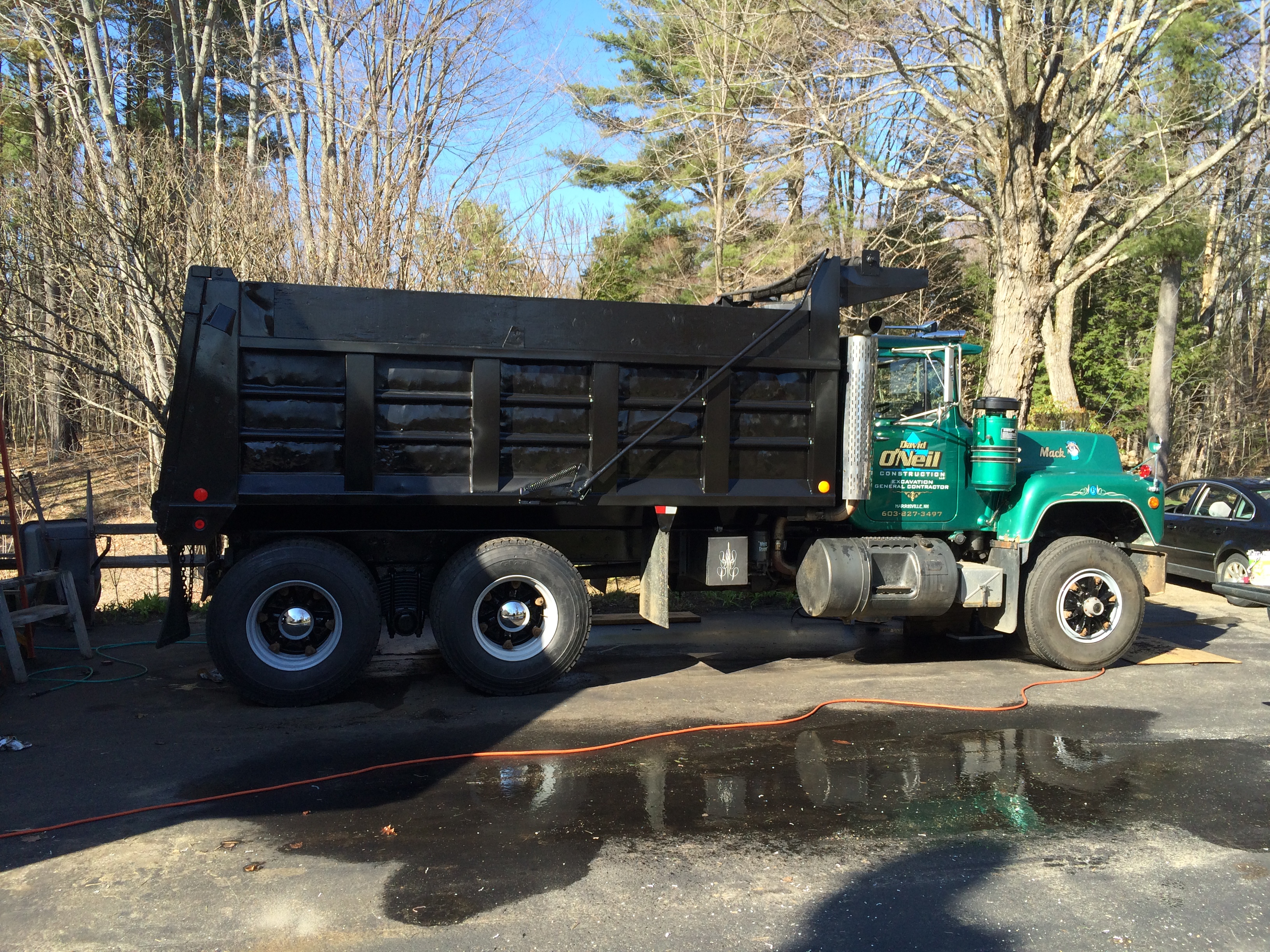 Do you have a shed, house, barn, cabin or cottage that are falling apart? We provide demolition services. Before deciding to demo the building we take a look at it's condition and may recommend talking to your local fire department. If the building is structurally safe, they usually like to use them for training purposes. We believe in giving back to our communities and if the building can be used in this way we will make that suggestion. Should you choose to have the building demolished instead we are happy to complete that task including all waste removal.
We also provide trucking. Whether it be for personal, at home projects or another construction company needing an extra truck driver for the day. We can deliver all different types of material, simply give us a call, tell us what material you are looking for, where and when you would like it delivered and we will make it happen.  
Retaining Walls