WELCOME TO NEW ENGLAND...WHERE WINTER HAPPENS EVERY YEAR AND SNOW PLOWING & SANDING ARE ESSENTIAL!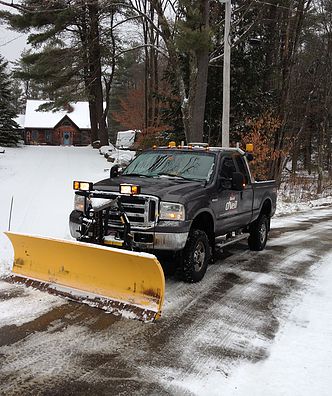 During the winter months plowing & sanding is essential for safe walking and driving at home or work. We currently serve about 60 residential customers and 7 local businesses with our snow plowing, sanding/salting and snow removal service. Want a reliable and insured plow driver? We are here for you.
We make sure every one of our customers driveways are plowed when they need to be. Depending on the storm track we try to make sure your driveway is plowed for your arrival and departure. Our thoughts are geared towards your safety, so what about in the event of an emergency? Ambulance, fire and police personnel need to have proper access to your driveway. A clean plowed driveway that is sanded allows for these essential services to get to you in a timely manner. Another service that is essential during the winter is having oil delivered. These are reasons why your driveway needs to be properly cleaned up and ready at all times.
We offer two sanding options, automatic sanding or by "will call only". When you are on our automatic sanding list we make sure your driveway is kept clean and sanded when we feel it needs it. For those customers that want to be able to communicate exactly when they want to be sanded we have the will call option. This option allows you, the customer, to call us when you would like your driveway sanded.
Another service we offer is snow removal. For those heavy and large snow accumulation winters, we have a loader that we use to push back snow banks and/or haul your snow away if we find there is no other space to put the snow.
One thing that sets us a part from our competitors is our snow plow billing. Most companies in the area have a monthly rate for snow plowing, where we bill per plow. We believe our customers should only pay for a service once it has been provided. We are looking to take on additional residential and small commercial plowing jobs for the 2016-2017 winter season. Call 603-876-9000 for a quote.